Envira North Systems Altra-Air High Volume Low Speed Variable Speed Ceiling Fans (12'-24', Downflow, Up To 315,026 CFM)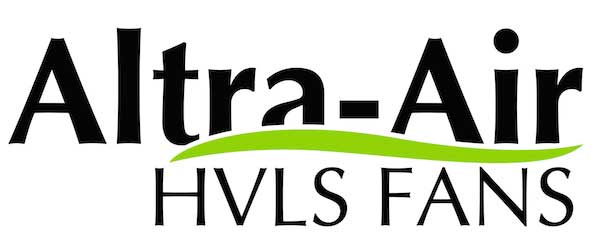 Altra-Air Application
Altra-air fans blanket a very large area with constantly moving air to create an expansive comfort zone.
As a result, in hot humid weather these big ceiling fans will create an evaporative cooling effect of two to four degrees Celsius throughout.
During the heating season the Altra-Air fan technology can de-stratify uneven temperatures that can be in excess of 15 degrees Celsius from floor to ceiling. This results in significant energy savings since the heating system cycles less frequently. Hot and cold spots are also eliminated.


-

Five bladed High Volume Low Speed Fan
- Increased blade pitch means more air.
- Inexpensive to operate.
- Very low decibal level.
- Proven to save energy year round.
- Simply the best fan on the market.


-

Fans range from 8' to 24' in diameter.
- Capable of moving nearly 400,000 CFM.
- Variable frequency drive provides soft start & full variable speed operation.
- Creates a non-disruptive air flow.

How to Calculate the Number of Fans Required for Your Building
1.
Calculate the inside floor area of your building:
Length x Width = m² 122 x 45 = 5,490 m²
2. Locate the structural columns or walls and measure the allowable distance. This will provide you with the max. fan diameter possible that can be installed in the space provide. See "A" and "B" for this example. We will say that both "A" and "B" are 6.7 m apart.
3. Obstructions such as floor equipment, walls or areas set out for storage must be calculated as these objects have direct impact on air circulation. Calculate the m² areas of the equipment and figure the percentage of unobstructed space. For this example we will say the equipment in the space takes up 30% of the floor area. We have 70% unobstructed space.
4. We now know that we can install a 6.1 m fan in these areas due to the 6.7 m column spacing. For this example we have picked the 6.1 m fan from the catalogue. The catalogue specification tells us that the maximum effective diameter is 61.0 m per fan.
We then calculate the m² area that each fan will cover:
Radius = Ø / 2
Radius = 61.0 / 2
Radius = 30.5 m
Area = πr ²
Area = 3.14 x 30.5²
Area per fan is 2,921 m².
5. We then must calculate the number of fans required for the building size. We take the area per fan (2,921) multiplied by the percentage of unobstructed area (70%).

2,921 x .7 = 2,044
We then divide this number into the total area of the building.
5,490 / 2,044 = 2.70
We require three 6.1 m WhalePower fans realizing that some overlap of coverage will result.
Customer Reviews





(0.00)

stars out of 5
(Only registered customers can rate)
Related Products
2 Total Related Products