Ceiling Fans → Commercial Ceiling Fans → Northwest Envirofan Model #48F-9 White Commercial Variable Speed Ceiling Fan (48" Downflow Only, 21,500 CFM, 3 Yr Warranty, 120V, 1 Phase)
Northwest Envirofan Model #48F-9 White Commercial Variable Speed Ceiling Fan (48" Downflow Only, 21,500 CFM, 3 Yr Warranty, 120V, 1 Phase)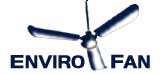 Features
Commercial Ceiling Fans Come Completely Assembled (except blades).

Thermo Protected Motor.

Sealed Chrome Ball Bearings.

Secondary Support Cable.

Stamped Steel Motor Housing.

Curved Metal Blades.

Baked White Enamel Finish.

UL Listed - Meets All 507 Standards.


Model =48F-9
Color = White
Maximum CFM =21,500
Airflow =Downflow
Diameter = 48"
Maximum RPM = 320
Maximum Square Foot Coverage = 1,600 Sq.Ft.
Voltage = 120V
Amps = 0.61
Stock Down Rod Length = 10"
Lead Wires
*Note: These fans are variable speed (inifinte range) and made to work with a solid state
rheostat speed controller which is sold separately. Area coverage is measured from a 20'
mounting height.
Customer Reviews





(0.00)

stars out of 5
(Only registered customers can rate)