Commercial → Model #L-156-R Commercial Ceiling Fan (56" Reversible, 20,850 CFM, 5 Yr Warranty, 120V) $132.75
Model #L-156-R Commercial Ceiling Fan (56" Reversible, 20,850 CFM, 5 Yr Warranty, 120V) $132.75
Features
Commercial Ceiling Fans Come Completely Assembled (except blades). All metal construction. No plastic canopies or blades to burn, melt, or crack.

Variable speed capacitor type, impedance protected, 18 pole "F" frame A/C motor. Cast Aluminum motor housing.

3/4" O.D. steel down rod, drilled and clevis pinned to motor shaft.

3/8" x 7 1/4" steel J-type mounting hook with spring steel safety clip and aircraft type lock-nut to prevent spin-off or falling.

18/3 SJT power cord with black jacket & 3 prong molded plug. 80 c, 10 amp., 120 volt rated, or wire leads.

Factory installed type 304 stainless steel internal safety cable, 7" x 1/16" diameter, 480# breaking strength.

Self-locking 1/4" blade bolts with PVC coated threads.

Heavy duty, high performance aluminum ribbed blades with vibration isolators.

Tipped up end blades.
*Note: These fans are variable speed (inifinte range) and made to work with a solid state
rheostat speed controller which is sold seperately. Model #HFR-5 is required to change
direction of the fan from downdraft to updraft. Ceiling fan speed control models 202
208, 215
can be used with reversible ceiling fans for downdraft only or with model A-10
reversing switch mounted in a 2-gang box.
Custom down rod lengths are available.
Pricing below reflects lengthening the down rod pole, lead wires & safety cable.
Note: There is a 3-Fan minimum when ordering custom colors. White is the standard color. Paint is a wet coat enamel.
Powder coating is available on a per quote basis. There is a 12-Fan minimum when ordering custom powder coating. Powder coat colors can be viewed by clicking here.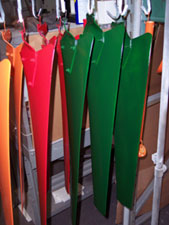 Wet Coat Enamel Color Chart for Online Ordering
| | | | | | | | | |
| --- | --- | --- | --- | --- | --- | --- | --- | --- |
| | Black | Brown | Green | Blue | Yellow | Orange | Silver | Grey |
| | | | | | | | | |
Customer Reviews





(0.00)

stars out of 5
(Only registered customers can rate)