Canarm Ltd. Model #CP48BK Black Commercial Variable Ceiling Fan (48" Reversible, 13,000 CFM, 5 Yr Warranty, 120V)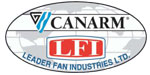 CP48BK Fans are Discontinued and No Longer Available.

Features
The Canarm brand CP48BK ceiling fan has a variable speed PSC type thermally protected motor with permanently lubricated bearings. The CP48BK ceiling fan can be used with the Canarm brand MC series solid state rheostat speed controller to make it an infinite speed ceiling fan. The painted steel blades with curved tips help maximize square foot coverage. The CP48BK ceiling fan is reversible and can be used to provide winter heat de-stratification and summer time cooling.

Model FRMC5 speed controller is required to reverse the ceiling fan and change from updraft to downdraft. For downdraft fan operation only, models MC-3, MC-5, MC-10, MC-15 and CQ002 & CQ004 can be used.
5 Year Manufacturer's Warranty
Customer Reviews





(0.00)

stars out of 5
(Only registered customers can rate)