Northwest Envirofan Model #160C-7 White Industrial Variable Speed Ceiling Fan (56" Reversible, 34,500 CFM, 5 Yr Warranty, 120V)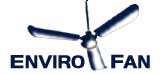 Features
Industrial Ceiling Fans Come Completely Assembled (except blades).

Cast Iron Motor Housing

. Sealed, Thermo-Protected, Moisture and Dust Resistant.

Straight Aluminum Blades.

UL Listed - Meets all 507 Standards.

Baked Enamel White Finish.

Wire Leads. Secondary Support Cable.

Perfectly Balanced, Smooth Quiet Operation.

5

Year Manufacturer's Warranty.

Note: These fans are variable speed (infinite range) and made to work with a
solid state
rheostat speed controller which is sold separately. Area coverage is
measured from a 20'
mounting height.
Model #108C reversing switch is
required to operate the fan in reverse or Model #105FR
speed control with built in
Reversing Switch. When using Model #108C
a 2-gang
electrical
box is required along with the variable speed control.
Customer Reviews





(0.00)

stars out of 5
(Only registered customers can rate)
Related Products
10 Total Related Products