Northwest Envirofan Model #160F-7 White Industrial Variable Speed Ceiling Fan (56" Downflow, 34,500 CFM, 5 Yr Warranty, 120V)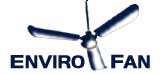 Features
Industrial Ceiling Fans Come Completely Assembled (except blades).

Cast Iron Motor Housing

. Sealed, Thermo-Protected, Moisture and Dust Resistant.

Aerodynamically Curved Aluminum Blades.

UL Listed - Meets All 507 Standards.

Baked White Enamel Finish.

Perfectly Balanced, Smooth Quiet Operation.

5

Year Manufacturer's Warranty.

*Note: These fans are variable speed (inifinte range) and made to work with a solid state rheostat speed controller which is sold separately.
Customer Reviews





(5.00)

stars out of 5
(Only registered customers can rate)
1.
Jonathan
on 7/8/2016, said:
5 stars out of 5





This one is THE BEST industrial you can buy today! It would last long, is powerful, and is silent even on variable speed (if they are not silent on variable speed, putting some rubbers between blades and motor would help). So you should definitely get one if you need to get an industrial. YouTube video of that fan: https://www.youtube.com/watch?v=VRzwdnjmKlc
(1 people found this comment helpful, 0 did not)
Showing comments 1-1 of 1
Related Products
8 Total Related Products